APPROVED BY DERMATOLOGISTS
Glowing Cleansing Foam​
CLEAN – PURIFY – MOISTURIZE
Glowing Cleansing Foam cleanses the face and purifies softly the epidermis. Its anti-ageing active ingredients reduce cutaneous ageing features. It soothes irritations and reinforces the cutaneous barrier for a younger, softer and smoother skin.
This cleansing foam needs to be applied once a day to wet skin. To refresh the epidermis and moisturize it, adopt this face cleanser in your anti-ageing and anti-wrinkles routine.
The Glowing Cleansing Foam brings:
 A clean and purified skin,
Unclogged pores free from impurities,
 Intense moisturizing,
 Reduction of wrinkles and fine lines,
 Glowing and bright complexion.
This Glowing Cleansing Foam is made in France. Floxia's medical team selected for you the best ingredient to clean and purify your skin from free radicals and pollution responsible for early skin ageing.
Neutrazen™ is an anti-inflammatory active ingredient. It acts on the inflammatory reaction: it balances and reverses inflammation features for an optimal protection of the skin. Its protects the skin from inflammation linked to UV rays, immune system, chemicals and mechanical stress.
At the same time, it reduces cutaneous inflammation and softens imperfections such as dilated pores, sebaceous cysts, dry skin, uneven skin texture. It acts on irritations, itching and dryness. It's effective in case of redness, oily skin, acne prone skin, cutaneous impurities. Neutrazen™ has a soothing and regenerating immediate effect.
It prevents the first signs of skin ageing as well by preserving the skin from the harmful effects of the sun.
Thanks to its biomimetic action, this active ingredient is well accepted by the skin. Irritations are soothed and sensitivity managed. The epidermis founds it natural balance back.
This natural cosmetic ingredient has several benefits for the skin and its efficacy to ease itching and irritations is widely reknown.
Oatmeal is a precious ally used is cosmetic products, especially for sensitive or atopic skin. Rich in soothing and nutritive elements, it suis dry and sensitive skins and balances the epidermis and calms inflammation. It prevents cutaneous dryness and fights dehydration. By fixing water in the cutaneous tissues, it improves the skin elasticity. Thus, it moisturizes and prevent skin oxidation. Moreover, it balances the pH of the skin and maintains the natural skin acidity. The skin is protected from dryness and external aggressions: sunburns, stings, eczema, redness, burns, psoriasis… It forms a thin film onto the skin to protect, moisturize and give glow to the skin without leaving too much product.
This active ingredient makes the Glowing Cleansing Foam softer and suitable for sensitive and atopic skin. It cleanses delicate and damaged skin without being aggressive and irritating. In summer as in winter, it doesn't dry out the epidermis and helps to make it brighter.
Sodium PCA is an amino acid naturally found in the body. This active ingredient acts on several levels to maintain the beauty of your body.
Firstly, it boosts the epidermis hydration. It's a moisturizing agent that can be found in the NMF, this acronym means "Natural Moisturizing Factor". The NMF's function is to insure and to maintain the stratum corneum's moisturizing. Sodium PCA moisturizes the skin by catching water molecule which is improving its appearance and giving it a youthful and moist glow.
Also, this active ingredient preserves the skin from oxidation. It slows down skin ageing and softens wrinkles and fine line, crow's feet wrinkles, skin sagging.
With its powerful anti-inflammatory properties, Sodium PCA soothes irritations and redness. Feelings of itching linked to external factors (sunburns, eczema, psoriasis) are soothed. Skin is suppler, comfortable and smoother.
Widely used in cosmetic, Glycerin is a humectant agent that allows an intense hydration of the skin. It has a strong hygroscopic power, which means that it is able to attract and keep water in the cutaneous tissue. Indeed, it can catch to 20 times its weight in water.
Its benefits are numerous:
Its moisturizing power reinforces the skin barrier and the hydrolipidic film, making the skin suppler, softer and comfortable.
Thanks to the light film that Glycerin leaves on the epidermis, it

protects

the skin from external aggressions that fastens skin ageing.
It favors the collagen synthesis, the protein responsible for skin elasticity and resistance. With it, healing and regeneration are optimized.
How to use
This Glowing Cleansing Foam needs to be used once a day, on morning or evening, to wet face. Apply 1 to 2 foam push in the palm of your hand. Massage it delicately onto the skin, then thoroughly rinse with clear water.
Use warm water no to dry out the skin. Too hot water makes the skin dry and dehydrated. Too cold water can cause burns or redness.
Lift skincare routine for mature skin:
To perfect your skincare routine, adopt the entire FLOXIA-LIFT line arise from the French excellence. Start with a soft cleansing of your face with the Glowing Cleansing Foam, then apply the Focused Toner with a cotton pad. Afterward come the Ultimate Rejuvenating Serum application, which is the key step of the routine. The Eyes Absolute Cream is applied with the ring finger to the eye contour with light pressure. Put the Revitalizing Absolute Emulsion to the whole face while avoiding the eye surrounding area. The Neck and Upper Chest Strengthening Cream comes to finalize this anti-ageing routine by treating the neck, oval of the face and the décolleté. Don't forget your sun protection to prevent skin ageing. You can now put makeup on your skin, which will be enhanced thanks to the LIFT line.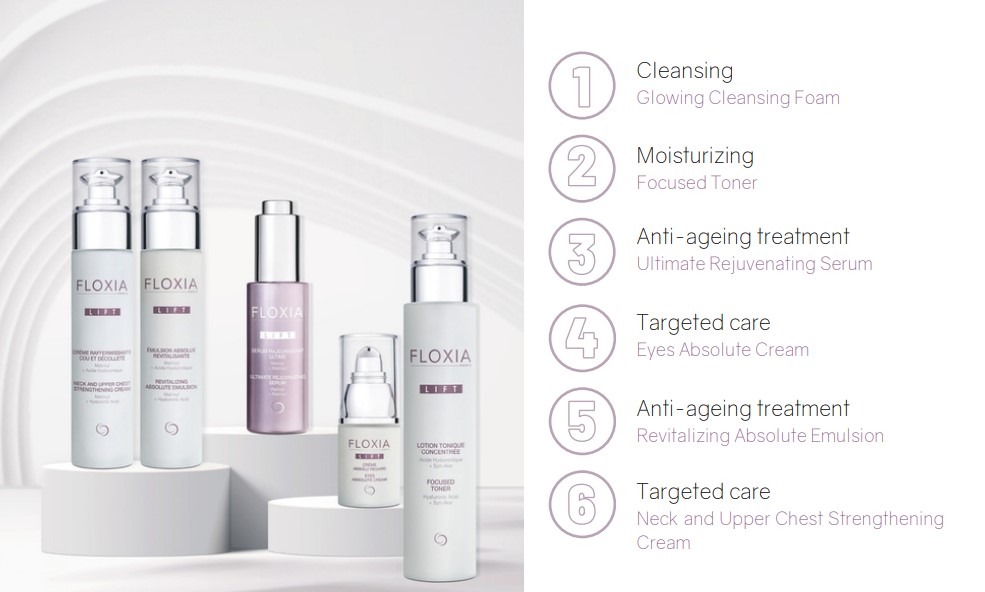 Instruction for use
The Glowing Cleansing Foam can be applied to every skin type, even sensitive ones. But the foam will be most adapted for:
Senescent skin,
Damaged skin,
Dry and dehydrated skin,
Acne prone skin,
Inflamed skin.
For external use only.
Avoid contact with the eyes.
Store below 30°C.
Benefits for the skin
Moisturizing
Your skin benefits from an intense hydration. If you have dull complexion, this foam will brighten your face and give it glow.
Soothing
Enriched with moisturizing and soothing active ingredients, this foam eases inflammation and make your skin softer and pleasant to touch. Say goodbye to shedding, redness and inflammation after showering. This foam respects your skin type. To avoid irritation after showering, lightly pat your face with a soft towel but do not rub it.
Purifying
The LIFT foam cleanses and purifies the epidermis softly. Its composition, high in nutritive and soothing active ingredient, balances and preserve the natural acidity of the skin.
Makeup remover
This cleanser unclogs pores and removes the makeup perfectly. It needs to be used after your micellar water or other makeup remover.
Respectful
If your skin is sensitive, a cleansing foam without soap will be more adapted. True ally for sensitive skin, the Glowing Cleansing Foam cleanses softly the skin. After application, the skin is free from impurities but it's still soft and comfortable.
Anti-ageing
Thanks to its antioxidant and moisturizing active ingredients, the LIFT foam slows down skin ageing and protects the skin from free radicals. The skin looks younger for a longer time and skin ageing features (such as wrinkles, fine lines, crow's feet wrinkles) are soften. As a result, your skin will look younger and will be stronger to face external aggressions.
Then, apply your other LIFT cares to your skin to benefit from an ultimate anti-ageing action.
Efficacy and results
Glowing Cleansing Foam soflty cleanses the face. It goes along with your anti-ageing and anti-wrinkles skincare routine made with the other dermatological LIFT products.
Clinical results assure that the Glowing Cleansing Foam with no soap is not irritant for the skin, even 48 hours after application.
It suited every skin type: mature skin, dry skin, oily skin, sensitive skin, damaged skin, atopic skin and allergic skin.
With its dermatological active ingredient, this cleanser is recommended to sooth irritation, eczema and other skin disorders.
Ingredients
AQUA (WATER), SODIUM COCOAMPHOACETATE, GLYCERIN, OCTYLDODECETH-25, LAURYL GLUCOSIDE, SODIUM CHLORIDE, HYDROXYACETOPHENONE, CITRIC ACID, SODIUM COCOYL GLUTAMATE, 1,2- HEXANEDIOL, CAPRYLYL GLYCOL, POLYSORBATE 20, CHONDRUS CRISPUS POWDER, SODIUM PCA, PROPYLENE GLYCOL, PHENOXYETHANOL, BUTYLENE GLYCOL, AVENA SATIVA (OAT) KERNEL EXTRACT, SODIUM HYDROXIDE, DEXTRAN, PALMITOYL TRIPEPTIDE-8.*
*The lists of ingredients used in the composition of our products are regularly updated. Before using any of our products, you are invited to read the list of ingredients on the packaging to ensure that the ingredients are suitable for your personal use.