APPROVED BY DERMATOLOGISTS
Ultimate Rejuvenating Serum​
ANTI WRINKLES – ANTI AGEING – SMOOTH
The Ultimate Rejuvenating Serum efficiently fights wrinkles and fine lines. It strengthens and improves the skin's texture and makes it soft, beautiful and younger.
This anti-ageing serum needs to be applied on morning and evening on a cleansed skin. It is applied after the Focused Toner and before the Absolute Revitalizing Emulsion.
Its light texture penetrates rapidly pores without clogging them. The fluid is soft. Its action targets the collagen and elastin synthesis. The dermis is firmer and more supple.
The Ultimate Rejuvenating Serum brings:
Glow,
Younger skin features,
Less wrinkles,
A slowdown in the skin ageing process,
Less dark spots,
Firmness and elasticity.
This face serum is entirely made in France. Floxia's medical team patiently selected the best anti-ageing and anti-wrinkles ingredients for you.
Vitamin A, or Retinol, is an essential liposoluble vitamin for the organism. It can be found in our diet, especially in food coming from animal, but also in plant-based food. It enables the development of our organism while maintaining our skin health.
Its antioxidant power helps the skin to fight against oxidative stress. It fights free radicals responsible for skin ageing and prevents pigmentary spots (dark spots, brown spots) from occurring. It also brings an immediate radiant complexion effect.
Retinol also fights skin slackening by boosting the collagen synthesis. Thus, the skin elasticity is improved and firmer.
Finally, Retinol participates at the skin cells specialization and renewal. Vitamin A protects cutaneous cells from external aggressions and favors their renewal.
Its keratolytic effect on the skin can make it sensitive to UV rays, this is why one should always wear a sun protection while using it.
Matrixyl™ 3000 is not only a cosmetic ingredient but also a peptides association named "matrikines". Matrikines act in the cell activity balance by activating some genes linked in the extracellular matrix renewal and cell proliferation.
While ageing, these mechanisms tend to grow weaker, it's at this time that the first signs of ageing appear on the skin.
Matrixyl™ 3000 allows to restore the youth mechanism of the skin thanks to the matrikines power. Its presence in skincare products allows a rise in the collagen synthesis. It smoothes wrinkles and fine lines to improve the skin texture. Its anti-ageing and anti wrinkles benefits helps the epidermis to achieve a youthful and great complexion. Finally, its biomimetic action is a sign of great tolerance.
Since 30 year, the face's muscles are loosing their integrity which lead to skin slackening. From this time, expression of the face are « print » on the skin. A smile, a frown and the skin is digging and creases are formed. This explains the origin of expression wrinkles. Even if this phenomenon is natural, it can be delayed or even soften with effective biotechnological active ingredient.
Syn®-Ake suits every skin type and has an anti-ageing power that has already been proven. This active ingredient has a synthetic peptide that can also be found in the temple viper's venom and is responsible of the muscular paralysis. With its biomimetic action, it blocks neuromuscular contraction, and thus, softens our expression impact on our skin. Its lows molecular weight allows it to penetrate rapidly into the cutaneous barrier for an immediate, long-term and fully reversible action.
By acting directly on damaged and oxided skin tissues, it fights wrinkles and skin ageing features. It botox-like action replumps the first layers of the epidermis and acts on the skin beauty.
Vitamin C is a powerful antioxidant that fights against free radicals. It improves the collagen synthesis. Anti-ageing effect guarantee.
Also, Vitamin C brings glow to the complexion. Vitamin C offers a light peeling to reduce pigmentary spots linked to sun rays or skin ageing.
Human body doesn't synthetised Vitamin C, yet it's an essential element for the well-being of our skin and health. Thus, this vitamin has to be brought to the organism through food or cosmetic. Vitamin C protects essential molecule for the organism (such as proteins, lipids, glucids and DNA) from oxidative stress linked to free radicals.
It also improves the collagen synthesis for an optimal anti-ageing effect. Then, Vitamin C brings glow to the face and offers a light peeling to reduce dark spots liked to sun rays and ageing.
Hyaluronic Acid is a naturally present is our skin tissues. It acts on its support and its resiliency. However, while ageing the skin produces less Hyaluronic Acid which is leading to a firmness loss. Wrinkles and fine lines appear.
This molecule is known for its benefits on the skin. It can be used on mature skins thanks to its high moisturizing power and its ability to replump and smooth wrinkles and fine lines. It actively acts on tissue regeneration and healing as well.
Sodium Hyaluronate, the Hyaluronic Acid salt, has powerful hydration powers. With a great face moisturizing, you can benefit from anti-ageing virtues. It also fights dehydration and skin dryness (that occur more often while ageing). Here, with its low molecular weight, the Hyaluronic Acid can penetrate easily into the epidermis to make the skin benefit from its hygroscopic power.
This active ingredient is made of Vitamin E, an antioxidant and anti-ageing ally useful to fight against wrinkles. It protects the skin from external aggression (pollution, sun exposure, tobacco…) by stopping the free radicals' action on the skin. Also, its anti-inflammatory action allows a reduction of sunburns and erythema for instance. Finally, Tocopherol helps maintaining the skin elasticity and moisture by reinforcing the hydrolipidic skin barrier while improving the cutaneous microcirculation.
How to use
The Ultimate Rejuvenating Serum needs to be used on a cleansed skin, morning and evening. Apply some serum to your face with included dropper. Only a few drops are enough. Massage it softly to make the product penetrate into your skin while avoiding the eyes contour.
If you have dry skin you can apply to 4 drops. With its moisturizing active ingredient, it soothes irritations and reduces shedding.
Lift skincare routine for mature skin:
To perfect your skincare routine, adopt the entire FLOXIA-LIFT line arise from the French excellence. Start with a soft cleansing of your face with the Glowing Cleansing Foam, then apply the Focused Toner with a cotton pad. Afterward come the Ultimate Rejuvenating Serum application, which is the key step of the routine. The Eyes Absolute Cream is applied with the ring finger to the eye contour with light pressure. Put the Revitalizing Absolute Emulsion to the whole face while avoiding the eye surrounding area. The Neck and Upper Chest Strengthening Cream comes to finalize this anti-ageing routine by treating the neck, oval of the face and the décolleté. Don't forget your sun protection to prevent skin ageing. You can now put makeup on your skin, which will be enhanced thanks to the LIFT line.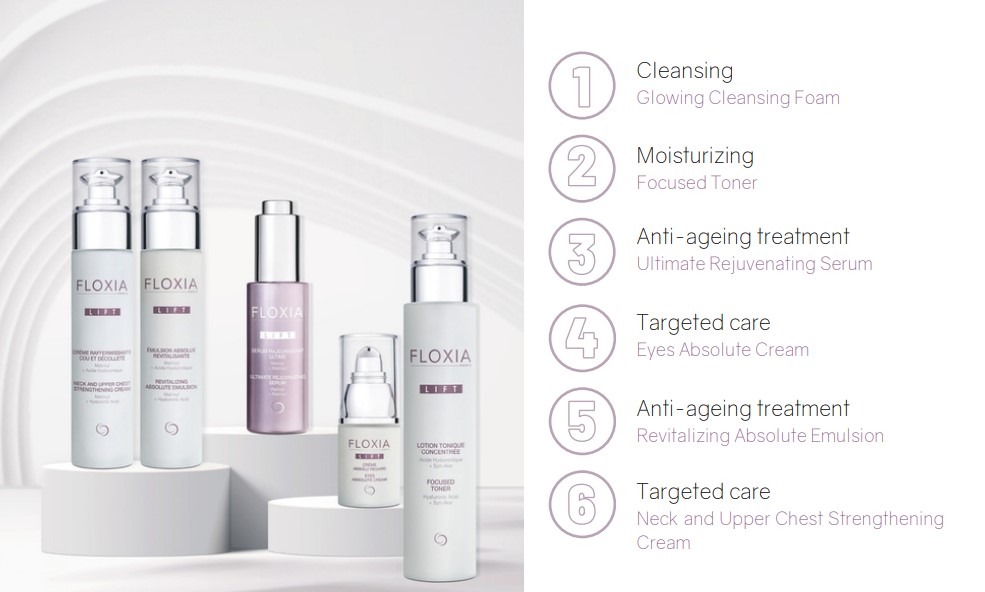 Instruction for use
Ultimate Rejuvenating Serum can be applied to:
Mature skin,
Dry and dehydrated skin,
Oily and acne prone skin,
Hyperpigmented skin,
For external use only.
Use a sun protection with this product.
Benefits for the skin
Firming
The skin is more bounced. The epidermis doesn't collapse anymore and you keep young skin features. The serum offers a lasting and discreet lifting.
Remodeling
Preserve your shadows and angles of your face. The Ultimate Rejuvenating Serum is THE face care to maintain the face youth and glow with high concentration active ingredients.
抗皱系列
The lift serum has proven anti-ageing properties. Its natural active ingredient fight against deep and superficial wrinkles.
Elasticity
Elastin represents 90 % of the dermis fibers. Through time, the lack of elastin makes the skin loose. The Ultimate Rejuvenating Serum slows down the loss of elastin and helps the skin to maintain its tone.
Moisturizing
Your skin benefits from an intense hydration. If your complexion is dull, this serum will help to brighten you face.
Radiant complexion
Due to its toning and regenerating active ingredients, the serum will offer you a great complexion effect.
Then, apply your other LIFT cares to your skin to benefit from an ultimate anti-ageing action.
功效与结果
Test realized on the Ultimate Rejuvenating Serum:
Study conducted for 28 days on a 22 female volunteers panel, aged between 41 and 61 years. Subjects showed clinical signs of skin ageing (crow's feet wrinkles, light to moderate skin elasticity loss).
Results:
Elasticity: + 5,7 % after 28 days of use.
紧致肌肤: + 6,2 % after 28 days of use.
Effect on wrinkles: Clinical improvement of the face wrinkles overall visibility for 54,5 % of the panel.
Satisfaction results:
My skin is firmer: 90,9 % of satisfaction.
The serum improves the glow of my skin: 90,9 % of satisfaction.
My skin is more elastic: 90,9 % of satisfaction.
My skin is brighter: 90,9 % of satisfaction.
My skin is replumped: 86,4 % of satisfaction.
My fine lines are reduced: 86,4 % of satisfaction.
The depth of my wrinkles is reduced: 77,3 % of satisfaction.
My wrinkles are reduced: 77,3 % of satisfaction.
My expression wrinkles are reduced: 77,3 % of satisfaction.
A lifting effect is seen on the skin: 72,7 % of satisfaction.
The cutaneous sagging is reduced: 77,3 % of satisfaction.
The face volume are remodeled: 72,7 % of satisfaction.
The skin texture is thinner: 86,4 % of satisfaction.
My skin looks younger: 86,4 % of satisfaction.
My skin feels regenerated: 90,9 % of satisfaction.
Made by Complife, 2023.
Close up on some active ingredients efficacy results of the Ultimate Rejuvenating Serum:
Matrixyl™ 3000:
44 % efficacy on deep wrinkles ;
14 % efficacy on the decrease of skin texture impurities ;
37 % efficacy on the wrinkles' depth loss.
Syn®-Ake:
Fast and lasting action ;
Reduction of the muscle cells contraction (slow down skin ageing) ;
Reversible effect.
成分
AQUA (WATER), GLYCERIN, 3-O-ETHYL ASCORBIC ACID, SILICA, RETINYL PALMITATE, ACACIA FARNESIANA (HUISACHE) FLOWER CERA, CAPRYLIC/CAPRIC TRIGLYCÉRIDE, HYDROXYETHYL ACRYLATE/SODIUM ACRYLOYLDIMETHYL TAURATE COPOLYMER, CAPRYLIC/CAPRIC TRIGLYCERIDE, ROSA CENTIFOLIA (PROVENCE ROSE) FLOWER CERA, ROSA DAMASCENA (DAMASK ROSE) FLOWER CERA, SODIUM HYALURONATE, SQUALANE, TOCOPHEROL, GLYCINE SOJA (SOYBEAN) OIL, CITRIC ACID, XANTHAN GUM, ALUMINA, SPILANTHES ACMELLA (ACMELLA OLERACEA) FLOWER EXTRACT, SORBITAN ISOSTEARATE, SODIUM LACTATE, DIPEPTIDE DIAMINOBUTYROYL BENZYLAMIDE DIACETATE, TIN OXIDE, PALMITOYL TRIPEPTIDE1, PALMITOYL TETRAPEPTIDE-7, BUTYLENE GLYCOL, POTASSIUM SORBATE, SODIUM BENZOATE, HYDROXYETHYL ACRYLATE/SODIUM ACRYLOYLDIMETHYL TAURATE COPOLYMER, POLYSORBATE 60, CI 77891, CARBOMER, POLYSORBATE 20.*
*我们会定期更新产品成分表,在使用我们的任何产品之前,请您阅读包装上的成分表。